The Call has been launched for nominations for the 2017 edition of the UNESCO King Hamad Bin Isa Al-Khalifa Prize, and the theme for this edition of the Prize is the use of ICTs to increase access to quality education.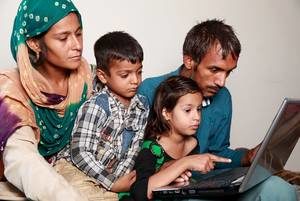 ICTs have the potential to accelerate the achievement of Sustainable Development Goal 4, which aims to "ensure inclusive and equitable quality education and promote lifelong learning opportunities." This comprehensive goal, taken forward through the Education 2030 Agenda, recognizes the necessity to focus on both access and learning. Quality education must ensure that all students acquire the foundational skills of literacy and numeracy as well as a range of cognitive, interpersonal and social skills, in order that they might be able to lead fulfilling lives, contribute fruitfully to their societies and cope with rapid change.
Funded by the Kingdom of Bahrain, the UNESCO King Hamad Bin Isa Al-Khalifa Prize was established in 2005 to recognize innovations in teaching and learning that leverage technology to improve outcomes. Since then, the increasingly powerful capacities and lower costs of ICTs have led to the rapid diffusion of digital devices and applications, as well as to freely accessible digital content, with direct impact on education, including in low-income countries.
The 2017 edition of the Prize will reward the organizations and individuals that are carrying out innovative practices to leverage ICTs so that they can significantly increase access to quality education and lifelong learning opportunities, including for out-of-school children and youth, internally displaced persons and refugees, persons with disabilities, illiterate populations, adults who cannot access relevant skills development or higher education opportunities, and other socio-economic disadvantaged groups. The winning project also should promote the values that underpin Education 2030 and the broader Sustainable Development Agenda.
Two prizewinners shall be designated by UNESCO's Director-General on the basis of the recommendations of an international jury, and each will receive a monetary award (US $25,000) and a diploma. They will be announced during a ceremony at UNESCO Headquarters in Paris in early 2018. The Statutes and financial regulations of the Prize, approved by the 195th session of UNESCO's Executive Board, are attached herewith for your ease of reference.
To prepare a nominated proposal, your Government may wish to consult with your country's National Commission for UNESCO. The deadline for submission of all nomination files is 20 October 2017.